April Artist of the Month: Adrienne Vita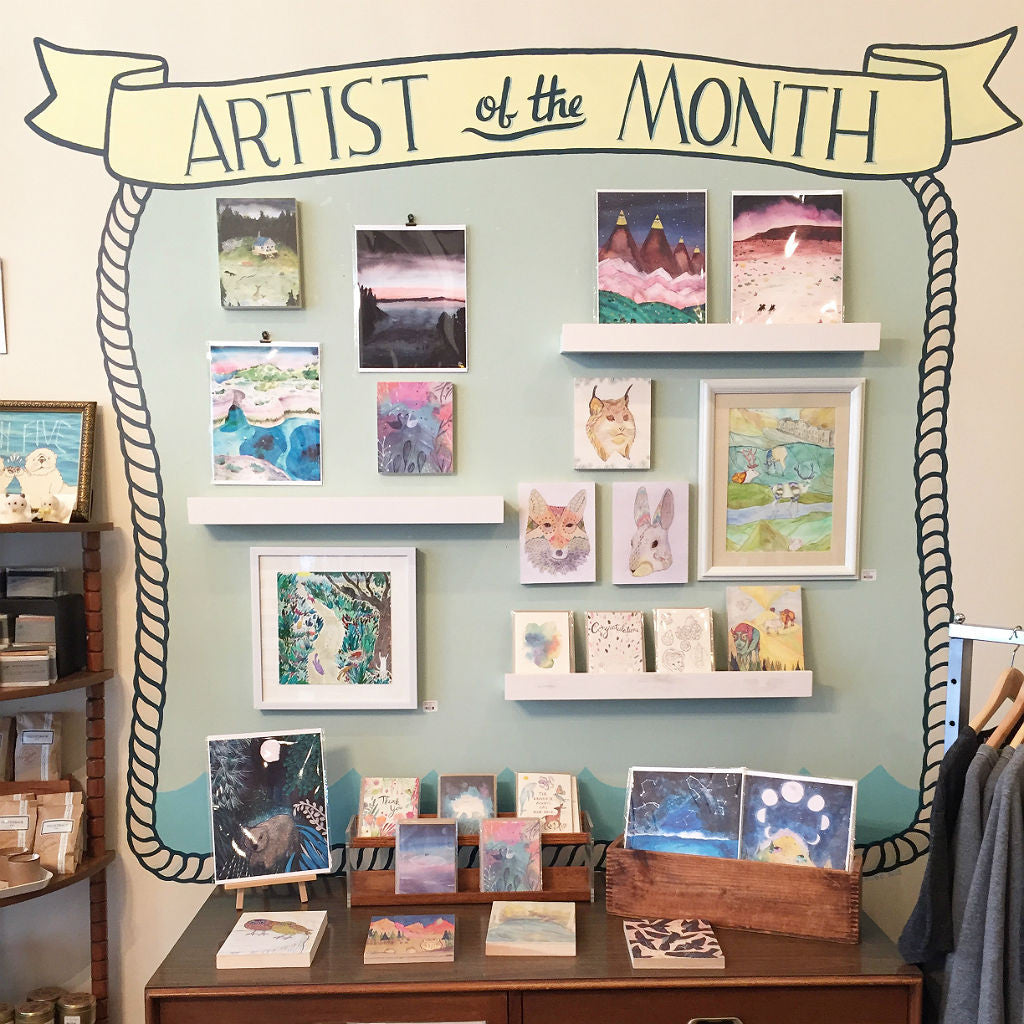 April showers are raining upon us and so are beautiful creations by our Artist of the Month, Adrienne Vita!  Dreamy and colorful, Adrienne's eye-catching work is like a field of wildflowers that you just have to pull over and gaze at - a perfect welcome to Spring.
Adrienne's paintings represent tiny detailed moments in the vastness of the natural world, as well as birds, animals and crystals in colors that are both bright and tranquil. Full of familiar and yet somewhat otherworldly images, it is not surprising that Adrienne says her artwork is her way of translating messages from the universe that she gleans from dreams, intuition, meditation and long walks.  
If you are feeling dull after this loooooong rainy Winter, come feast your eyes upon Adrienne's vibrant selection at our shop this month featuring prints, woodblocks and lovely, encouraging cards and you will feel a renewal.  Read on to see what Adrienne had to say in answer to our questions, and find her at www.adriennevita.com to learn more!
What do you predict for your business in the coming year?
I am working on making books, getting more of my art in shops around the world and doing small animations. My Instagram is the best place to see what's going on with those ideas in the coming year. 
What art and craft fairs and events are you looking forward to in the coming year?
Honestly, my favorite craft fair is Crafty Wonderland - they gave me my start and I wouldn't be anywhere without those first few Doug Fir shows.
What is your favorite word or swear word?
Favorite swear word is "shitballs".
What are you currently reading or what podcast are you listening to?
I am currently listening to the "Strangers" podcast and reading all sorts of crystal geology and crystal metaphysical books.
What is your favorite drink?
Dark and Stormies are my favorite, but I do have an occasional Amaretto Sour.
Do you carry an umbrella?  What is your stance on umbrellas?
I just used one the other day!  When I moved to Portland, I subscribed to the "no umbrella" thing. But I walk so much more than I used to - miles more. So I bought a better, more sturdy one that I can sling over my shoulder when I don't need it. Umbrellas are pretty charming and useful!
By Joanna Kurimsky
---
← Older Post Newer Post →
---
0 comments
---