January Artists of the Month: Robot Candy, Chet & Dot, and Automatte!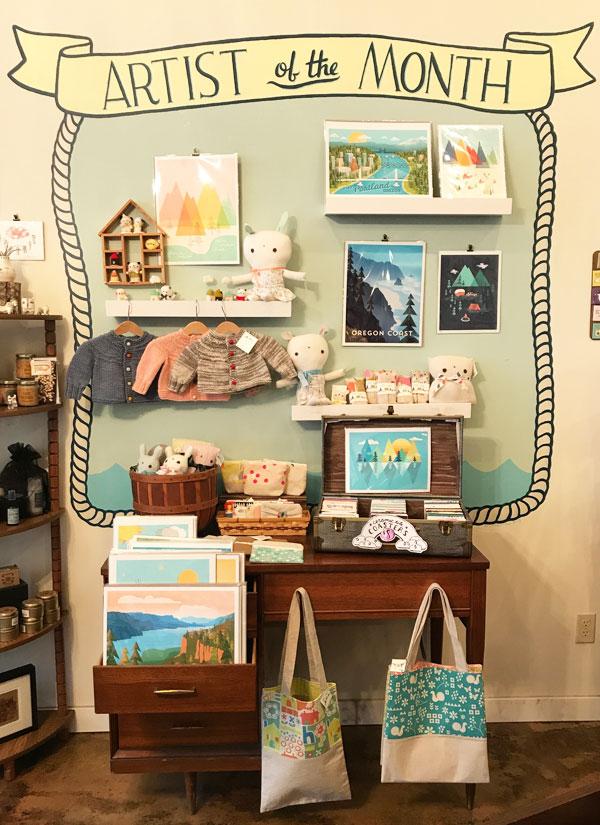 2018's first Artist of the Month is the lovely as ever dream team, Jenn Hill + Jenny Tiffany of Robot Candy!!! They were actually our first ever featured artists to grace this blog as Artist of the Month and the featured space on our shop wall back in the days of yore.  We are so thrilled they are still a part of our happy little family!!!
For over a decade Robot Candy has been responsible for helping to make Portland a cuter, craftier city with their awesome work inspired by all things mid-century.  Most recognizable are Robot Candy's famous tile coasters featuring fun, retro imagery.  There are literally hundreds of designs to choose from - Portland bridges and other landmarks, crafty cats, vintage ads, sweet floral patterns, and their own unique take on the RESIST logo. 


Besides the abundance of Robot Candy coasters to choose from, you can also check out Jenn and Jenny's other lines, Chet & Dot and Automatte, which all have a warm and fuzzy vibe: needle felted fuzzy kitty necklaces and other irresistible critters, hand-sewn travel tissue pouches (great for sneeze season!), adorable knit baby sweaters, plush softies, tote bags, art prints, and more!!!
Come visit our shop to see their work in person or check out http://www.robotcandy.com/ for more info.  And read on to see what Jenn Hill had to say about future projects for Robot Candy and what podcast you should be lending an ear to in the new year!
What do you predict for Robot Candy in the coming year?
We will branch out with a new product line this year - we are super excited about that!
What do you predict for the maker/art world in general?
I think the maker world is going to continue to grow and evolve. It's been so amazing to see how it's changed and become more mainstream over the last decade. I love to see so many people be able to do what they love for a career.
Current celebrity crush?
I don't really have celebrity crushes, but right now I'm watching the Lucy Show from the early 1960s and so I'm rather smitten with Lucille Ball.
Current political crush?
I think I love Joe Kennedy, but ask me again in a year.
What shows are you looking forward to the coming year?
We are planning to do some out of town shows this year, perhaps Renegade, but we really love doing local shows the most. The public school sales are always lots of fun and it's nice to be able to support them.
What are you reading/what podcast are your listening to?
I'm currently reading about natural dyes and I'm listening to an assortment of True Crime podcasts. I just finished Dirty John which was really good - surprise ending!
Favorite beverage?
Homemade eggnog is a current favorite around here.
Do you carry an umbrella?  What do you think about umbrellas in Portland?
I keep an umbrella in my car and I use it because I don't like being wet. Staying dry is nice and I have never really understood the whole "real Portlanders don't need umbrellas" thing.
By Joanna Kurimsky
---
← Older Post Newer Post →
---
0 comments
---