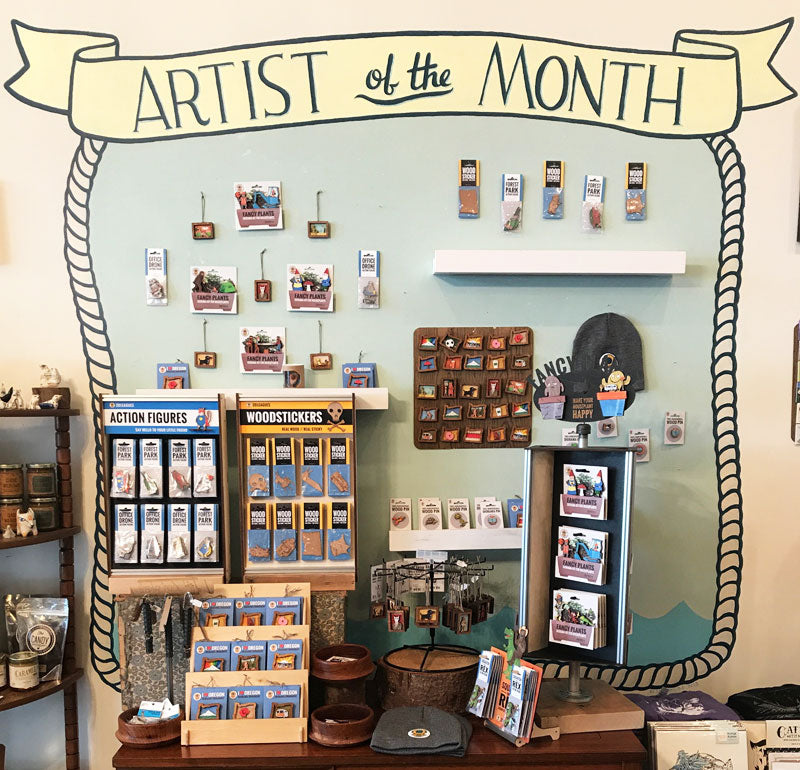 20 Leagues is an mad scientist meets artistic duo based here in Portland, Oregon. They create works that remind us to stop and appreciate the small, simple things in life - like pigeons! Their work centers around everyday life with a twist, and they are quick to see the beauty and weirdness in the strangely mundane.
20 Leagues specializes in making things that you never knew you needed, like wooden stickers, plant dioramas, and an action figure of Sasquatch riding a T-Rex.
What are some projects you hope to tackle in the future?
All of them. Our process is to throw spaghetti at the wall.
What would you say inspires your work?
All of them. Nothing. Not sure really. Ideas emerge from an odd, shared sense of humor and an awed, shared sense of wonder. We bandy our ideas about, though we aren't sure what that means, then follow our whims wherever they lead. We live in a fanfiction of our own fantasies.  
It just goes to show that sometimes living in your own fantasy world can actually pay off.
Tell us a bit about your artistic process!
All of them? Our process is to do anything to land the joke or tell the tale. We bring equal parts art and science to bare in our quest to fancy up your houseplants, classy up your cubicles, and giddy up your gift-giving game. A faster answer is gouache and lasers, we do it all with gouache and lasers.
We carry their products year-round, but come see the expanded display in our Artist of the Month Spotlight all through June!
---
← Older Post Newer Post →
---
0 comments
---