May Artist of the Month: Hillockburn Farm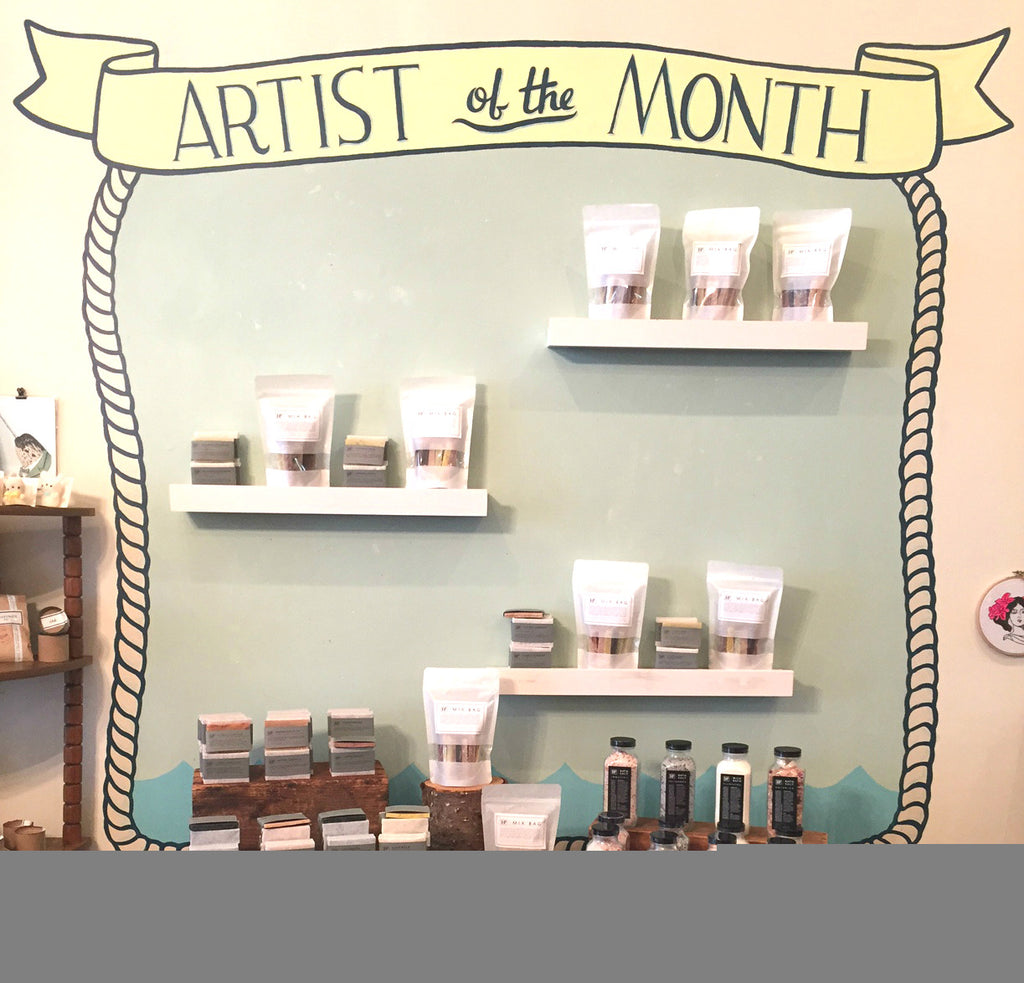 May is here and (hopefully!) ushering in some long-awaited SUN to PDX!  Along with it comes our May Artist of the Month, Rebecca Kaihani, owner and operator of Hillockburn Farm!
Hillockburn Farm specializes in high quality, handmade, small batch, natural body care products, and believe us when we tell you THEY. SMELL. AMAZING. Rebecca started creating natural products for friends and family as a hobby and then expanded to selling her wares on a national level; recently she opened her own shop in NE Portland!
Spring seems like the perfect time to treat yourself to some wonderful-smelling Hillockburn Farm soaps like Brown Sugar Fig, Citron Honey Coriander, Cherry Almond, Rosemary Peppermint, or Heff Beer.  Or better yet, treat your mom for Mother's Day - perhaps to a facial in a bar of soap (aka Peppermint, Tea Tree and Activated Charcoal)! Come into Crafty Wonderland to pick up something sweet - this month we have featured other Hillockburn Farm products along with the soaps we usually carry, such as aromatic bath salts, bath milk, vegan balm, or if you're the indecisive type, a "Mix Bag" - 10oz bags of randomly selected pieces from their soap collection.



Keep in mind that Hillockburn Farm donates 10% of their annual profits to different local charitable organizations, so you can feel even better about supporting them.  We encourage you to check out their website, https://www.hillockburnfarm.com/ as well as visit their new storefront (grand opening May 12!) and read on to find out what this super cool, outgoing lady boss had to say in response to our blog questions!

What do you predict for the art/maker world?
They/we are now in demand. It feels like consumers are looking for unique items that can't found at your giant chain store…that's great for all the artists and makers out there.

Who is your current celebrity crush?
Olivia Munn and Jason Bateman…if they ever ended up together I would DIE!!!

Who is your current political crush?
Smokey the Bear….because only YOU can prevent forest fires!!

What art and craft fairs and events are you looking forward to in the coming year? (Besides ours, of course!)
Crafty is clearly a favorite!!! But we also LOVE the St. Johns fair, it's a great vibe and hello…MARCHING BANDS!!!!

Favorite new local artist?
Loving T with Upper Metal Class! She's crazy nice and her jewelry is great…plus she's got a rad new shop on Sandy!

Favorite word and/or swear word?
I'm trying to swear less…so I'm using new words in place of swear words Fart = F*ck, Sugar = Sht…they aren't nearly as satisfying but, in a pinch they get the job done without sounding like a filthy f*cking sailor. Shit, that slipped out. Dammit! Ugh!!!

What are you currently reading or what podcast are you listening to?
Neither…I'm so lame! But in the shop I'm usually listening to the Broken Bells station on Pandora.

Favorite drink?
Booze: Bloody Mary ONLY IF it's made with bacon flavor vodka! Currently obsessed with Holman's on 28th.
Beer: Asam-Bock at Stammtisch, also on 28th
Side note - both of these places are within walking distance of our store…so please, go get a drink at either place, then stop by so we can talk about it!!!

Do you carry an umbrella?  What's your stance on umbrellas?
I own one umbrella….It's a little thing that I keep in my car for an "emergency". Oddly enough I had to use it once in an actual emergency. While driving down 205, I saw a dude crash on his motorcycle…it was POURING outside, several people pulled over to help the dude! Once we got him as comfortable as possible, I pulled out my umbrella in an attempt to keep him dry while we waited for the ambulance to arrive. Total score!  But personally, I don't use them….if it's too bad out there I use my hood, you know, the hands-free umbrella attached to most jackets!!!

By Joanna Kurimsky
---
← Older Post Newer Post →
---
0 comments
---