November Artist of the Month: Michele Maule!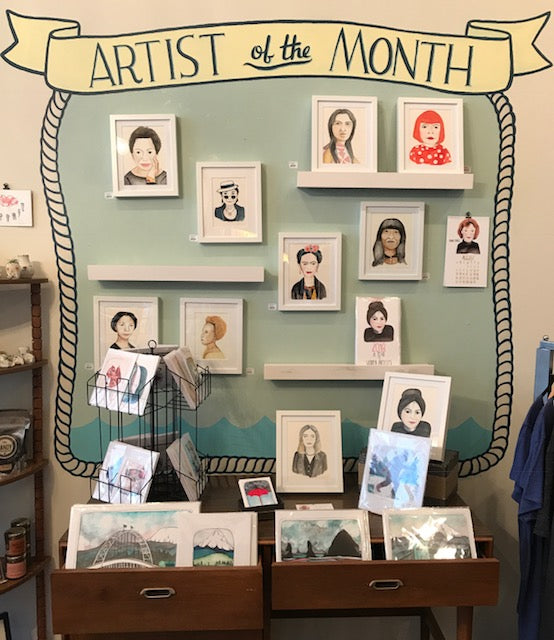 November's Artist of the Month is talented illustrator, painter, printmaker, and all around good egg, Michele Maule!
Michele is a Portland artist who is currently living the dream - she started out on Etsy many years ago, and eventually was able to quit her day job and sell her art and cards full time!
Most of her work, Michele says, is autobiographical in nature, but some of it tells stories.  This makes sense as it is easy to imagine yourself dropping into one of her rich, colorful landscape paintings for a hike, or snuggling up to one of the cute critters in her greeting cards.  It's very obvious that all of her work is created with tons of care and attention.
Maule's work often portrays familiar sights like the St John's Bridge framed by the evergreen trees in Forest Park, or the Steel Bridge surrounded by pink cherry blossoms, with an attention to detail and a signature style that is irresistible to locals and visitors alike.  
She's also done a marvelous series of gouache portraits of Women Artists, which will be available in a 2018 calendar (each artist's portrait corresponding to their birth month!).  Our shop is super psyched to be showcasing several of her framed originals, including Patti Smith, Frida Kahlo and Yoko Ono!
You can find Michele Maule's work online at https://www.etsy.com/shop/michelemaule and also score a selection of her prints at our online store!  For a little more scoop straight from the artist herself, read on:
What do you predict for your business in the future?
I've been growing a lot this year and I'm hoping to continue to do that! I'd love to have my work in more shops around the country and to have a few solo shows in galleries next year.
Who is your current celebrity crush?
Ryan Gosling, always.
Who is your current political crush?
Leslie Knope, always.
What are you reading or what podcast are you listening to?
My two favorite podcasts are My Favorite Murder and The Dollop. Those two podcasts have helped me paint some of the most tedious pieces I've ever painted and they've helped me process quite a few wholesale orders.
Favorite beer, wine or drink?
I love my friend Amy's Old Fashions.  Like friendship in a glass.
Do you carry an umbrella?  What is your stance on umbrellas in Portland?
I don't carry one. I guess they're okay. Unless you're on a really crowded street, and you have to do a lot of dodging and weaving in order not to have your eyes poked out.
By Joanna Kurimsky
---
← Older Post Newer Post →
---
0 comments
---