5 Reasons Not to Miss Our Spring Art + Craft Market!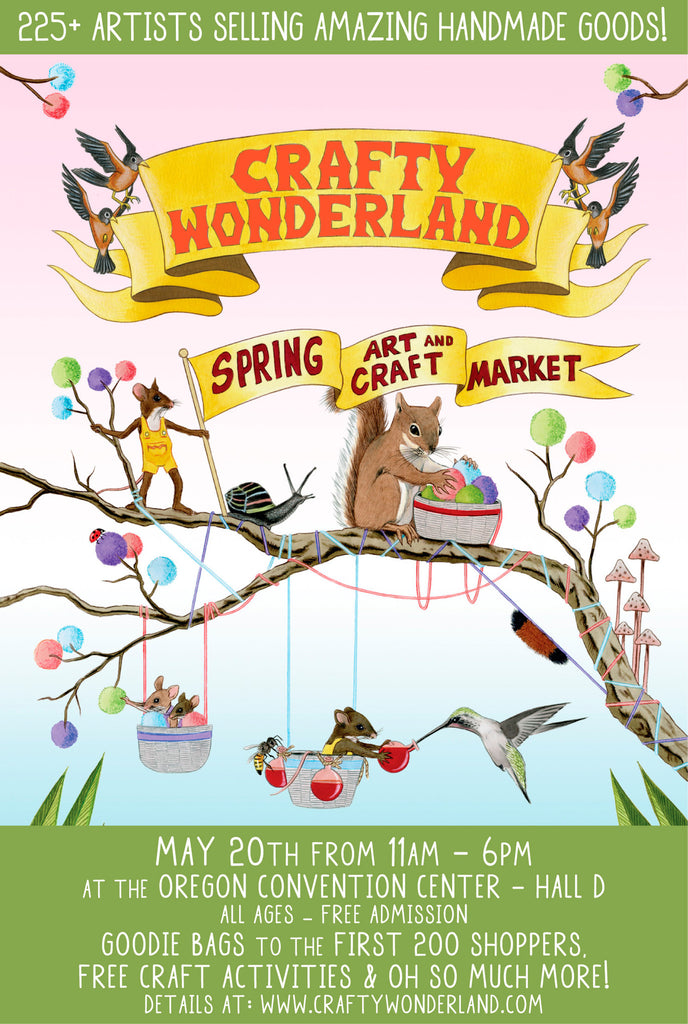 You won't want to miss our Spring Art + Craft Market on Saturday, May 20th! Here's why...
1. The biggest and best selection of handmade goods and art!
We'll have over 225 booths of amazing handmade goods and art from the most talented makers in the Pacific NW and beyond! Come see what all of your favorite artists have been up to, and discover some new talent while you're there! It's the perfect chance to snag the best gifts for Father's Day, upcoming weddings, baby showers, graduations, birthdays, and some goodies for yourself!  See the full list of participating vendors on our website here!  >>> Invite your friends with our official Facebook invite! <<
2. Fun + Free Craft Projects!
When you're ready to take a break from all the shopping you can sit down and get crafty with Collage and Scrap!
3. Meet Susie Ghahremani of boygirlparty.com!
Artist Susie Ghahremani has just released her first book, Stack the Cats! She will be in the Land Gallery / buyolympia booth #1 from 12:00-3:00 doing book signings! 
 
4. Goodie bags for the first 200 shoppers!
That's right! The first 200 people at the Art + Craft Market will receive a super cute tote bag stuffed with handmade goods and samples from our vendors! The totes are produced by Land Gallery / buyolympia and feature adorable cat artwork by Susie Ghahremani! 
5. Warm Fuzzies!
We love our community and are always looking for ways to give back. We think these organizations do great work, so we've invited each of them to have a table at the show to raise awareness for their cause. Our vendors also have the opportunity to donate a portion of their proceeds from the event to any of these non-profits that they choose to support. 


*Crafty Wonderland is not an affiliated entity with the ACLU.
Other Notables:
Our EVENT PROGRAM comes out in this week's edition of the Portland Mercury! Grab a copy to see the layout of the show and plan your route! There's also an interview with Susie Ghahremani and a sneak peek at some products you might find at the show! We'll also have extra copies to hand out at the show and in our retail store in case you're not able to grab a copy of the Mercury!
 
If you'd like to join in the fun, we're looking for a handful of friendly, helpful folks to assist us during set up on Friday, May 19th or in the DIY Area on Saturday, May 20th. The shifts are short and you will be rewarded with a gift and our eternal love. Email us at craftywonderland@yahoo.com for details! (Please don't reply to this email.)
See you on Saturday, May 20th at the Oregon Convention Center! 
---
← Older Post Newer Post →
---
0 comments
---