June Artist of the Month: Tripper Dungan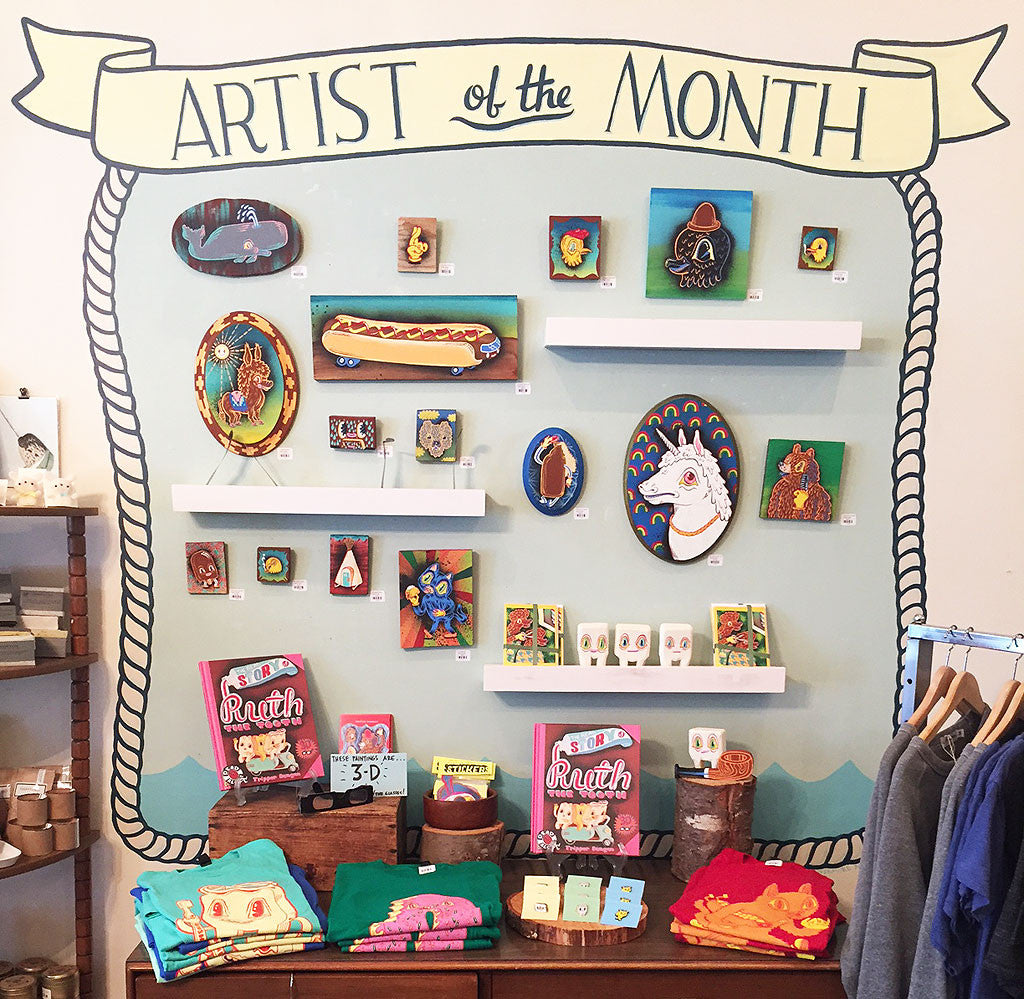 June's Artist of the Month is none other than Tripper Dungan - so put on your 3D glasses and get your mind blown!
Tripper originally hails from California but he's been part of the local art scene in Portland since 2002.  Locals have probably seen Tripper's work on the cover of the Mercury or if you're lucky, you've been able to visit interactive installations such as Lookie House!
Tripper wants his art to make you laugh and feel happy - so if cats holding hot dogs or eating tacos, bears combing their hair, wiener-mobiles, and grinning cassette tapes do the trick for you then you've got to come check out the feature wall of Tripper's work!  People in the shop love interacting with his work by seeing it in 3D. Take a peep at the new t-shirt designs and rad sticker packs as well as distinctive enamel pins that will have you truly upping your pin game!
Get to know Ruth the Tooth, the spunky heroine of Tripper's brand new book The Real Story of Ruth the Tooth!  This bright and snazzy book comes with ChromaDepth 3D glasses and a read-along record voiced by Tripper himself, along with his wife and daughter.  The story features a cast of colorful characters such as Rip Van Winkle and the Tooth Fairy!  Every page is fantastically illustrated, and the tale is adventurous and funny.
Read our Q&A with Tripper to learn more about future projects and other things from the inside of his head!
What do you predict for your business in the future?
At this moment right now I'm not totally sure. I have a lot of interest and directions I am inspired to go in. I'm coming out with a 3D book/vinyl record project I've been working on for a half year now.  And there's going to be a lot of promotion going on with that. I have a childhood dream of building a mini golf resort that is still in the planning stages. I have plans to start a secret space cult (shhhhh). I'm sure it will be more of the same as well though.
What do you predict for the art/maker world in general?
It's an interesting time right now. It feels like a lot of things are changing in the world. On one hand it feels like there's a trend towards know your maker/ custom culture, and in the other the middle class is shrinking and millennials value their devices and experience over objects. I do like the idea of a more experience-based art/ craft movement.
Who is your current celebrity crush?
Reggie Watts. 
What art and craft fairs and events are you looking forward to in the coming year? (Besides ours, of course!)
I'm nervous, but I'm doing the Brooklyn Renegade this summer. I've never flown to a craft fair before, so I'll be trying out a new setup. I'm having a huge show at Upper Playground this July though that I'm super pumped about. It's called Shrub Life. I'm using it as an opportunity to study plants.
Favorite word and/or swear word?
I just started a list of favorite words. "Smorgasbord" is a standout.
What are you reading or what podcast are you listening to?
I just got a book (at the Crafty Wonderland Spring Art + Craft Market) from Microcosm Publishing called Mostly True. I guess it's actually a magazine, but it's about hobo graffiti and trains.
Do you carry an umbrella?  What is your stance on umbrellas in Portland?
No, but I think if someone is going to be pegged as an outsider for carrying one, that's dumb. Some people just got their hairs did.
Check out numberstar.com for more.  We wish you the best Tripper!  Congrats on Ruth the Tooth!  And good luck at Brooklyn Renegade!
By Joanna Kurimsky
---
← Older Post Newer Post →
---
0 comments
---