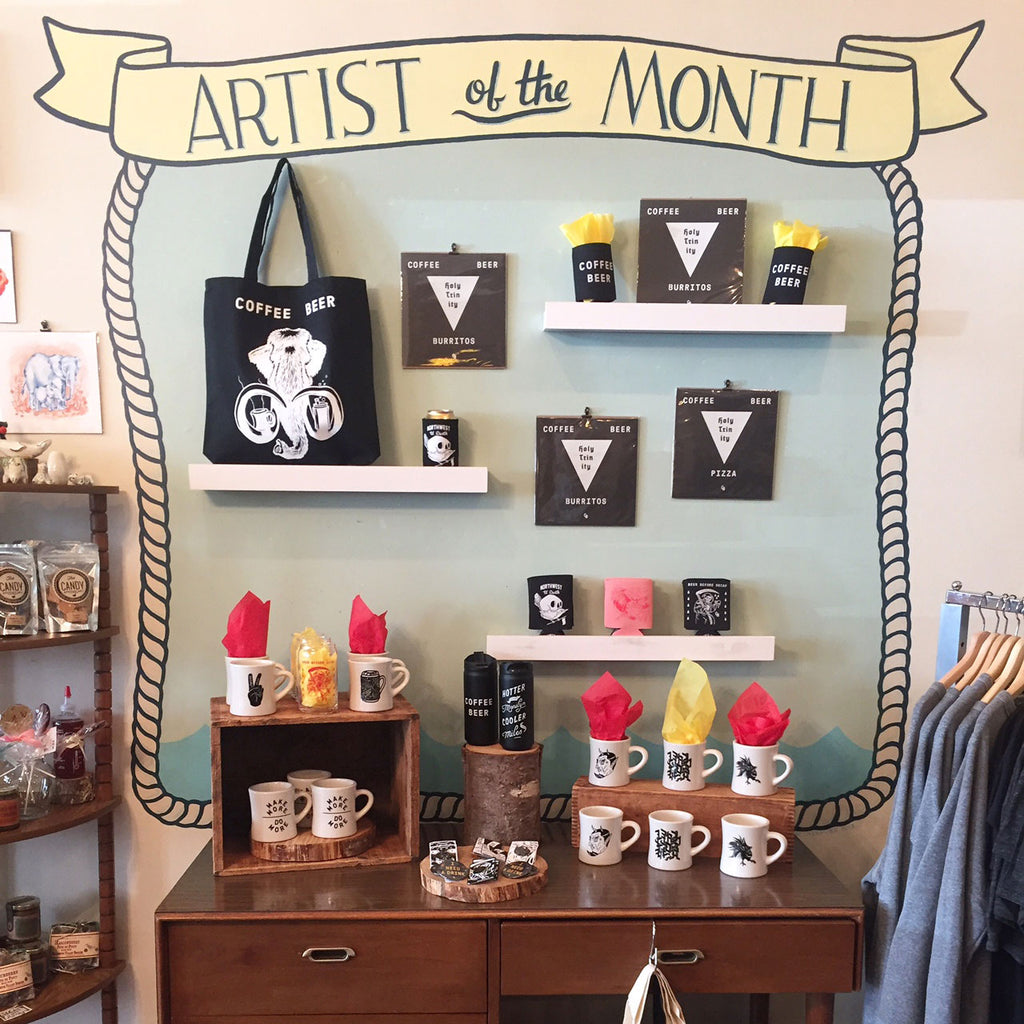 It's summer, it's super hot out, and it's best to keep things simple...like a cup of coffee in the morning and a cold beer at the end of the day!  Our August Artist of the Month will get you from one to the other.
Founded in 2015, Coffee Beer's Phillip and Jessica believe that coffee and beer should be just that -  two fine beverages that are delicious to drink being served in an approachable setting that fosters memorable experiences amongst amazing individuals!
People are in love with Coffee Beer's straightforward design and color palette, and their blunt, irreverent messages - such as "Death Before Decaf" (yes!), and their take on the Holy Trinity (coffee beer burritos, or coffee beer pizza).  Come check them out - we've got lots of extra cool stuff for this month, including glass cans, tote bags, new mug designs and more!  Coffee Beer has also recently paired up with Kayla Carlson of Paper Puffin to create adorable black and silver enamel pins that feature cool cats enjoying beverages!
Find out more at https://www.coffeebeer.me, and read on below to hear what Phillip and Jessica had to say about stuff!
What do you predict for your business in the future?
Magical, amazing things! We are going to be releasing a whole bunch of new merch this summer and we will be opening up our flagship brick-and-mortar shop in SE Portland. Along with all of our merchy goodness, we will be serving up everyone's two favorite beverages (Coffee & Beer) from sun up to sun down and getting you to and from the best parts of your day!
Who is your current celebrity crush?
Sam & Dean Winchester (from Supernatural).
What art and craft fairs and events are you looking forward to in the coming year? (Besides ours, of course!)
PIN PALS (Holiday Edition, Dec.2&3) at our friends' place and NUCLEUS Portland Gallery (1445 SE Hawthorne Blvd) - there'll be enamel pins, patches, beers, and merch galore!
Favorite local artist currently?
Rambling Hands  / Scout & Whistle / Jason Sturgill
Favorite word and/or swear word?
Aw Nuts!
What are you reading or what podcast are you listening to?
The Greatest Generation (Podcast), Nancy (Podcast), Love + Radio (Podcast), There Be Monsters (Podcast), Reply All (Podcast), Serious Eats (Podcast), The Sporkful (Podcast), StartUp (Podcast)

Favorite beer, wine or drink?
Rainier Beer always and forever, but we've really grooving on Gilgamesh Brewing & Claim 52 beers as of late. For Coffee, Junior's Roasted Coffee at Guilder and Upper Left Roasters.
Do you carry an umbrella?  What is your stance on umbrellas in Portland?
Nope. Handle it like a boss...or run!
- by Joanna Kurimsky


---
← Older Post Newer Post →
---
0 comments
---