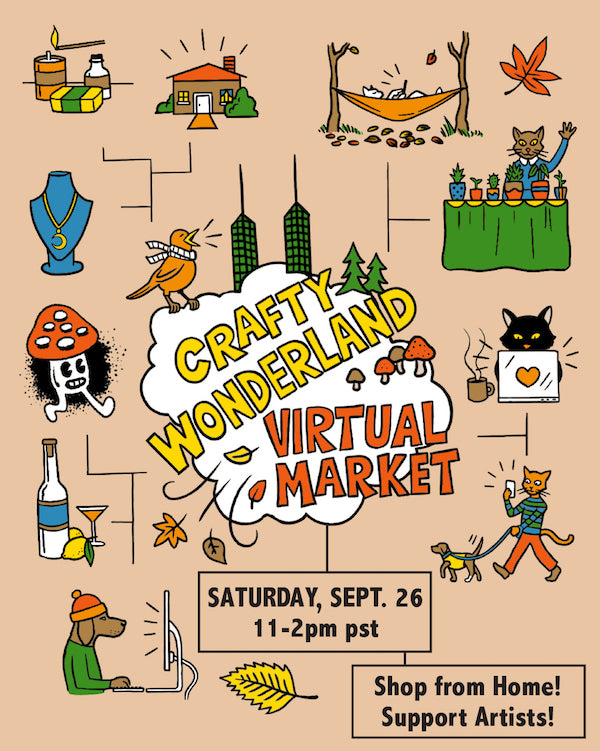 We know that part of the appeal of our events is that you get to meet the makers live and in person! Buying something directly from the person who made it is special and we want to give you that feeling even though we are not able to meet in person. So we have asked all the participating vendors to be LIVE for at least 30 minutes during the show hours. What does that mean? It means that they will be live on their own Instagram pages doing everything from demos + studio tours to live sales and interviews!

We have compiled an official Schedule of Events so you can plan your attendance beforehand. Look over the schedule of events HERE. We have also added a charitable aspect to the market with vendors choosing to donate to an organization that is meaningful to them – this information is also listed on that schedule of events.
Check out the vendor list 
HERE
. Each vendor has their own profile that contains photos, a short bio, a link to their website and a link to their Instagram page where they will be holding their LIVE portion of the event. The best part of the new and improved Vendor List is that it is SORTABLE BY CATEGORY! We've tried to make it easy for you to navigate and find the kinds of things you like! The entire live portion of the event is 4 hours long but the vendor list will remain on our website for at least one month so you can revisit your favorites afterwards.
TIPS FOR ATTENDING:
- Plan ahead!
 Look over the 
vendor list
 and the 
schedule of events
 ahead of time and make a list of the LIVE events you want to check out. With so much happening at the same time it's important to have a plan so you don't miss out!
- Watch our Instagram Stories!
We will have lots going on over on our Instagram page! We will be highlighting each and every vendor leading up to the event and will be linking to their live segments as they are happening in our stories. So please FOLLOW US if you don't already!
- Invite your friends!
 Use Zoom or Google Hangout and shop the market together! Chat on your desktop computer and shop on your phone!
- Make a shopping list!
 Use the market to get all your gift shopping taken care of! Think about upcoming birthdays, anniversaries, etc.
- Engage!
 We encourage you to ask questions or comment during the live segments! Everyone is craving some human connection so reach out and engage and meet new people!
- Support our community!
 Remember that our artists rely on the income from our markets to survive! Having to cancel our markets for the rest of the year has been a big blow to everyone so now is the time to send them some extra love and support! Even if you don't have the funds to financially support them you can share the event and their websites to help promote them!
- Have fun!
 We miss getting to see the joy on your face when you come to our events! Please share your experience with us by tagging us on 
Instagram
 (@craftywonderland) and using our hashtags on your posts - #craftywonderland #cwvirtualmarket #shopfromhome. We want to see what you bought, who you met and what you felt connecting with our artists!
- RSVP on Facebook!
 We have created a
Facebook Event
 where we will be posting details and updates! Make sure you RSVP and
follow us on Facebook
so you can stay informed!
---
← Older Post Newer Post →
---
0 comments
---