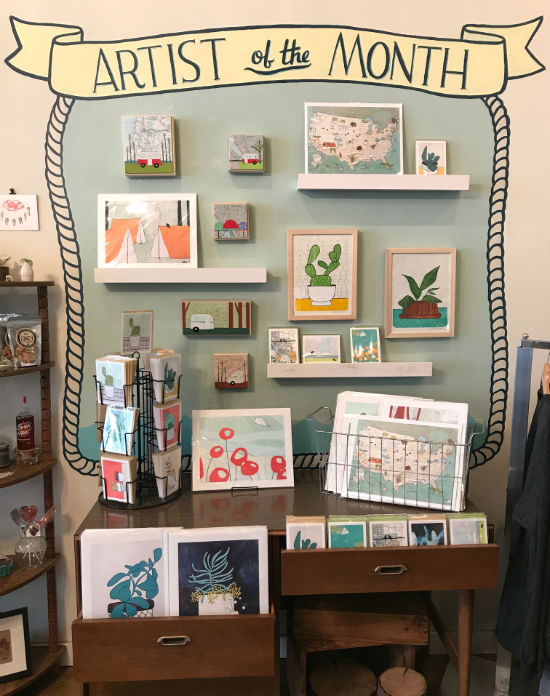 September is here and the end of summer is drawing closer (Waaah!).  But Portland still feels warm and sunny, and all your garden greenery and succulents are (hopefully) still kicking.  Here to capture September's essence one potted plant at a time is our Artist of the Month, Rachel Ann Austin!
It is pretty easy to surmise by looking at her work that Rachel is a big lover of gardens and tuned in to the quiet beauty in everyday life. Self taught, Rachel has been painting full time for over ten years.  Common themes of abstracted landscapes, plants, and maps are evident in Rachel's handiwork.  When not in the studio, she can be found digging in her garden and dreaming up ideas with her family.  When we wondered what she's currently working on, Rachel said, "I am reading lots of books on gardening, plants and cooking this summer - some of my favorite things."
As someone who spends so much time outside capturing various flora and landscapes of Portland, we had to ask Rachel to weigh in on the whole issue that some Portlanders have about umbrella usage.  Here's what she had to say: "I love umbrellas!  They keep you dry, are very cute, and you get to hear the pitter patter of rain as you walk.  I take a lot of walks in all kinds of weather and will go back and forth on taking one, but it always makes me happy when I do.  And I'm a native Oregonian and think all that umbrella snobbery I hear from people is silly.  Go umbrellas!"  
We encourage you to come feast your eyes on Rachel's new original plant paintings we are lucky to have in stock for the feature, as well as woodblock prints and greeting cards that are perfect for any occasion, or find her online at http://www.rachelannaustin.com.  And enjoy the rest of the summer season!
Words by Joanna Kurimsky
---
← Older Post Newer Post →
---
0 comments
---