Tickets on Sale Now! Holiday Art + Craft Market Timed Entry!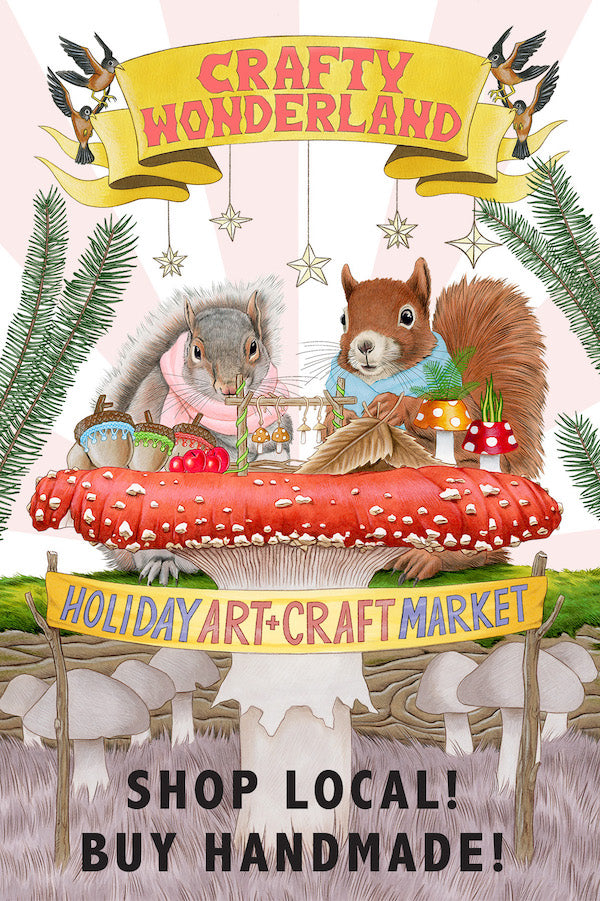 Same Awesome Event! New Safety Protocols!

We are SO excited to hold our Holiday Market in person this year!! Shop from over 225 of the best and brightest artists and makers around! We have created a floor plan with wider aisles and will be limiting entry every hour to allow for a comfortable shopping experience!

In an effort to control the crowds, we are doing timed admission throughout the day on both Saturday and Sunday in addition to the usual ticketed Friday Night Pre-Show Party. So everyone attending the event will need a ticket (with the exception of kids 5 and under)! We encourage you to purchase tickets ahead of time as we expect them to sell out. Choose your entry time and show up 15 minutes prior to that time to allow for getting through the Covid-19 safety verification. See our Covid requirements here. Once inside the show you may stay and shop as long as you want! 

We have kept our event free to attend for 15 years, but this year we need to charge a small fee in order to cover the costs involved with all the safety protocols required. Thank you for understanding and supporting us and our hundreds of artists! We are so excited to be back!
 
Crafty Wonderland Holiday Art + Craft Market
GENERAL ADMISSION - TIMED ENTRY - TICKETS REQUIRED!
Saturday, December 11th from 10am-6pm
Sunday, December 12th from 10am-6pm
$2 + fees ($4 total)
SPECIAL TICKETED PRE-SHOW SHOPPING EVENT:
Friday, December 10th from 5-9pm
$20 + fees ($23 total)
Includes one free drink of your choice!

SEE THE FULL VENDOR LIST HERE!

The Oregon Convention Center - Exhibit Hall D
777 NE MLK Jr. Blvd.
Portland, OR 97232
SHOP FIRST ON FRIDAY NIGHT!!!
Shoppers have raved about our past Friday Night Pre-Show Shopping Parties so we're doing it again! Get your tickets now and be one of the lucky ones who can shop our show before we open to the public over the weekend! We're only selling 800 tickets for Friday night so get one while you can! (To give you an idea of the pre-Covid era crowds, there were usually close to 2,000 people waiting in line to get into our show when it opened on Saturday morning. Our attendance for the entire weekend was 20,000...so 800 will feel like a gentle breeze!)

If the early shopping perk isn't enough, your ticket also gets you one free drink of your choice at the cash bar (a $10 value)! These tickets DO NOT have timed entry so you may arrive any time from 5:00-9:00pm.

Crafty Wonderland First Pick Pre-Show Party
Friday, December 10th
5:00pm - 9:00pm
Tickets for Friday Night are only $20 + fees ($23 total)
 
at the Oregon Convention Center
777 NE Martin Luther King Jr. Blvd - HALL D
A FEW THINGS TO NOTE FOR THE EVENT:
- Tickets are limited and must be purchased through TicketsWest. You can not buy them directly from us. Get yours now before they sell out! You don't want to miss this - it's going to be HUGE!

- Tickets are non-refundable.

- Kids 5 years old and under are free. Kids 6 years old and up will be required to have a ticket to attend and everyone aged 5 and up is required to show proof of vaccination or a negative Covid-19 test taken within 72 hours.

- Masks are required for everyone aged 5 and over.

- Proof of vaccination or a negative Covid-19 test taken within 72 hours is required for entry for everyone age 5 and older. See our complete Covid-19 policy with specific requirements HERE.

- Be sure to allow extra time to get through the Covid-19 safety verification. 

- Due to safety concerns we will not be distributing our usual Goodie Bags or hosting the DIY craft activities. We know these things are crowd favorites, but we felt it was best to skip them this year to ensure the safety of those attending. We do have some other fun and safe surprises planned so stay tuned to our social media for details!

- For the safety of all vendors and attendees, please stay home if you are sick!
Get your tickets today! You don't want to miss out! It's going to be HUGE and so fun to see everyone in person again!
---
← Older Post Newer Post →
---
0 comments
---