Apply NOW for our Holiday Art + Craft Market!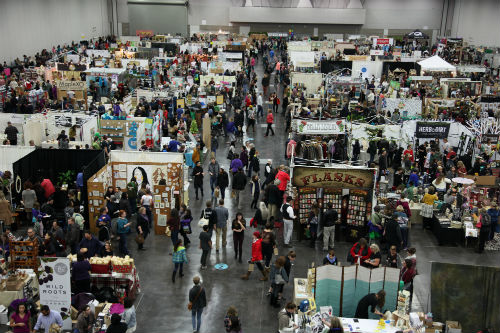 photo by Shannon O'Connor
Applications are OPEN!
It's time to apply for our 2021 Holiday Art + Craft Market! Don't wait too long - applications are only open for three weeks and will close at the end of the day (midnight) on September 5th. Details and a link to the FAQs page of our website are below. Have questions? Check out the FAQs page and you will find most of what you need to know there. We also recommend that you check out our list of handy APPLICATION TIPS before applying.

We'll have about 200 booths of handmade goods and art at the Oregon Convention Center the second full weekend in December, just in time for people to finish up their holiday shopping!
 
Crafty Wonderland Holiday Art + Craft Market
Pre-Show Ticketed Shopping Event
Friday, Dec 10th 5:00-9:00pm*

Free and Open to the Public
Sat, Dec 11th + Sun, Dec 12th
11:00am - 6:00pm*
*(Hours may change slightly.)

at the Oregon Convention Center
Exhibit Hall D
777 NE Martin Luther King, Jr. Blvd in Portland, OR
PLEASE NOTE: Participation in the Friday night ticketed shopping party is mandatory for all vendors! People can buy tickets in order to shop early for first pick of your goods and without the huge crowds. It's going to be AWESOME! This means that ALL VENDORS will be REQUIRED to load in and set their booth up completely between 10am and 4pm on Friday, December 10th and to have their booths open that evening during the event from 5-9pm. Please make note of this and arrange your schedule accordingly. Again, this is REQUIRED and is the ONLY time slot where vendors can load in.
What Will your COVID-19 Protocol Look Like?
This information is subject to updates and changes at any time. We will be following the guidance from local, state and federal health officials, as well as the Oregon Convention Center to hold our event as safely as possible. By attending our event, you accept the risk that you may be exposed to the Covid-19 virus or other illnesses.
For the safety of everyone:
Masks are strongly recommended for attendees and vendors and may be required as mandated by the state and county.
Attendance will be limited and with timed entry to allow for distancing among shoppers.
Aisles will be wider than usual to allow for more distancing between customers. To accommodate the wider aisles, we will be accepting fewer vendors.
We're exploring options for partitioning the booths between vendors.
---
← Older Post Newer Post →
---
0 comments
---