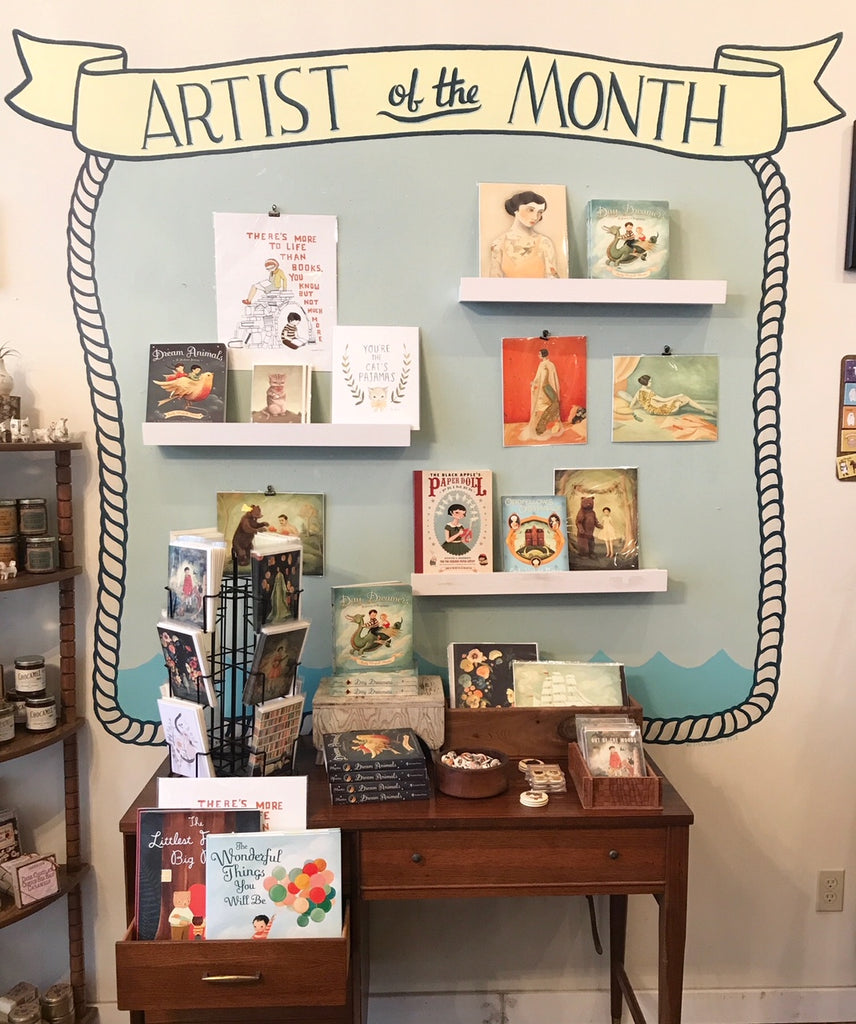 It is with happy hearts that we announce February's Artist of the Month, Emily Martin of The Black Apple!  We don't doubt that you have seen her work around Portland. You may have been lucky enough to lay eyes on her gorgeous originals at a local gallery, or fallen in love with her drawings in the pages of her many mesmerizing books, prints, and cards.
Emily Martin is a painter and illustrator, a collector and writer of books, and a creator of magical worlds. She works in a tiny nook of a studio filled with treasures & old wind-up toys. Her art is inspired by fairy tales, music, myths, illustration from the late 19th through mid 20th century, her favorite films, and the natural world.
Emily's work often conveys an aura of cozy solitude, curling up with a pet in an overstuffed armchair with a book of fairy tales and a cup of tea, your head filling with dreams and stories. Mysterious forests filled with mist and greenery that resemble the giant shadowy trees of our own backyard, and creatures, both human and otherwise, that are sweet and enchanting.
Swing by our retail shop to view Emily's art prints, greeting cards, magnets, & pins. We also have an array of her lovely books, including her children's novel, Oddfellow's Orphanage, which she wrote & illustrated! Also, should you need a gift to welcome a new baby, her companion children's picture books Dream Animals and Day Dreamers make the perfect presents for little ones' dreamy bedtimes.
Go to https://www.emilywinfieldmartin.com/ to see more of her work!
By Joanna Kurimsky
---
← Older Post Newer Post →
---
0 comments
---