March Artist of the Month: Beetle Ink Co.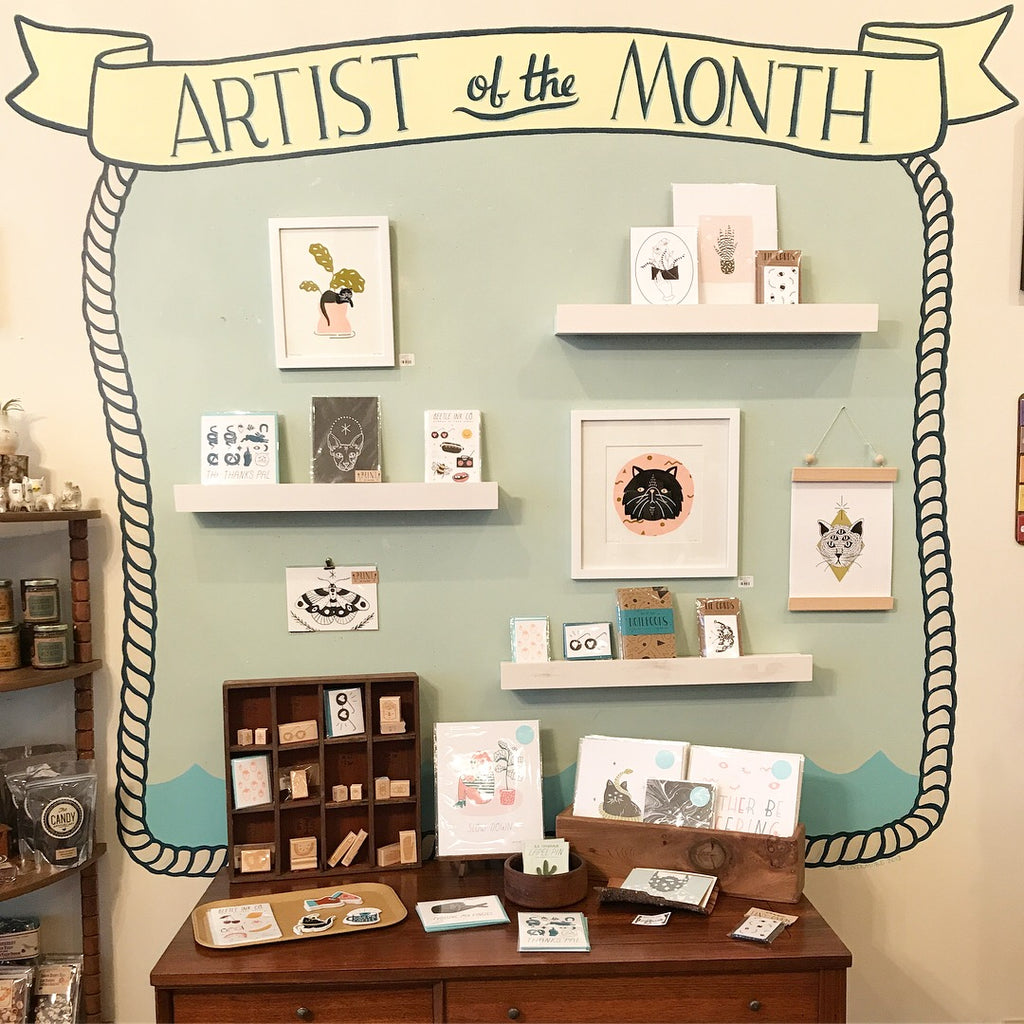 We are pleased as punch to announce that March's Artist of the Month is Emily Small, better known as Beetle Ink Co.!  
We challenge you to find work more charming than these nature-inspired, hand-drawn paper goods and stickers, rubber stamps and more.  For the cat-lovers in your life, look no further than these witchy animal-familiar designs on cards, prints or even framed original paintings!  
Help us usher in Spring with work by this wonderful artist!  Now that it's finally time to dig your jean jackets out of the depths of your closet behind all those waterproofs and woolens, you can up your lapel pin game with a Beetle Ink Co. cactus pin (or 2)!
Originally from New Hampshire's coast, Emily made her way to the Pacific Northwest (via Emerson College in Boston, where she earned her BFA in animation) and now calls Oregon home.  Portland is lucky to have snagged her as part of its maker community! Read on below to see what Emily had to say about her process and the local art scene:
Do you prefer to work collectively or alone?
To be honest, I find myself creating my favorite work alone. But don't get me wrong, I love to collaborate! I often work with other local artists to make fun limited edition products and for local businesses to create custom designs and branding.
Do you like to participate in group art/craft events?  What do you like to do?
Whenever I have free time between my custom design jobs, personal artwork, and full-time job, I apply to vend at local craft fairs! When I'm not vending, you can find me perusing the booths at Crafty Wonderland fairs, Renegade craft fairs, Sundaze Collective events, Sunday Flea, Portland Night Market, or doodling away at Nucleus Gallery drink 'n draw nights. I also work full time for the local record label/handmade goods store, Tender Loving Empire, which allows me to attend so many magical art and music events around Portland on the reg.
If you could influence a change in the art/craft world, what would it be?
Support local art! I hope to be an advocate for more community and less competition. I work with local artists and small businesses for all of my outsourced production needs and hope to inspire other makers to do the same. The more money and energy you put into your local community, the more it will flourish.
What is your favorite piece of public art in Portland and why?
I drive down MLK nearly every day and always notice the Fresh Paint murals! Fresh Paint is a collaborative project between Open Signal and the RACC which allows local artists to expand into new medias and grow their skills in a large scale and public space. Every few months, a new artist will paint over the existing mural and create something of their own!
Do you read the Mercury or the Willamette Week, the Skanner, the Oregonian?  Do you have a favorite column?
I follow WW on Facebook for local news and articles. And I always snag a Mercury for the things to do Music section! If you haven't already listened to local songwriting angel, Haley Heynderickx, you totally should.
What app are you addicted to, happily or otherwise?
*sigh* Instagram, and who isn't!? It's such a time sucker, but the amazing artists I follow give me endless inspiration.
Any messages for the next generation of Portland DIY artists coming into their own?  
Slow down. Us makers aren't machines made to pump out products left and right, we're humans who can only do so much.  We have limitations and that's okay! The art & maker world can be so competitive, fast-paced, and stressful. But you don't have to be! Do you at your own speed.
Wise words and brilliant tips from a great local artist!  Come check out Emily's work at the Crafty Wonderland shop or at her website, https://www.beetleinkco.com/ for some inspired and adorable work!  Or follow her on the addictive Instagram at @beetleinkco!
By Joanna Kurimsky
---
← Older Post Newer Post →
---
0 comments
---