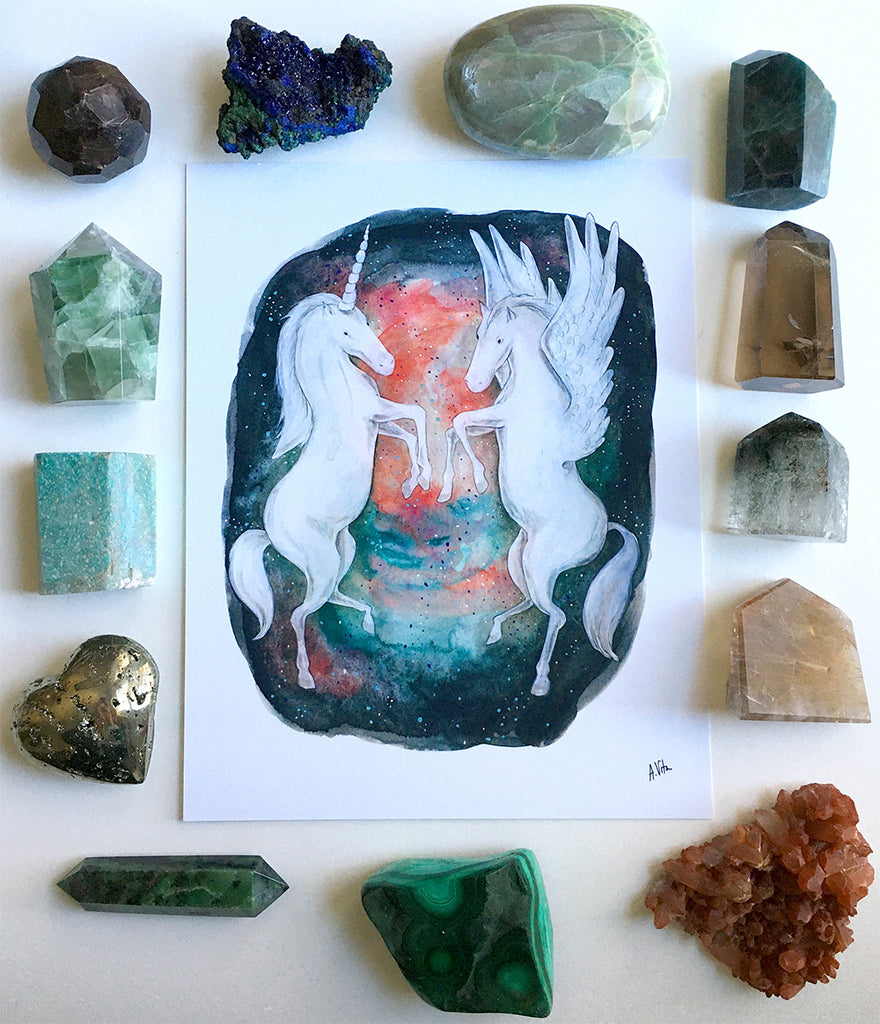 Our first Maker Monday interview is with local artist and long-time Crafty Wonderland vendor, Adrienne Vita! You may recognize her work from both our shops and our craft markets. Adrienne has been selling with us since back in our Doug Fir days and is now participating in our Virtual Markets, doing live tarot and oracle readings, painting, and showing some beautiful crystals. She'll be vending at both of our upcoming Virtual Markets, so be sure to catch her live on her own Instagram page Saturday, November 28th from 1:00-2:00 PST!


Astrological Sign: Cancer sun sign

Favorite Color: Deep Bluish-greenish and Black

Favorite Food: Mushrooms, fennel, tomatoes, strawberries and chocolate - not all together though haha.

Favorite Art Supply/Tool: Watercolor and brushes



How did you get started doing art as a business?
I went to art school and then had a full time art career in design. After 10 years of that I switched to a part time design job so I could start selling my own art. Crafty Wonderland gave me a chance to vend in my very first booth when they were at the Doug Fir Lounge. Things slowly picked up for me so I was able to leave my part time job to pursue my art business full time in 2007 and then adding my crystal shop 2016.
Do you have any advice for other people who are looking to grow their business and become a full time artist/crafter?
Start by doing your art after your work hours or get a part time job while selling your work until you can move into it full time. Don't look at what's trendy or sells. Make what is unique to you. Keeping at it is key.


How has COVID changed the way your business works?
My business hasn't changed so much because I already had my online shop and shipping in place. Events have been the real change. I haven't had any in-person connection with my clients, customers or stockists during covid. I am now doing virtual events which works really nicely to still connect with everyone.
Where do you find the most inspiration for your work?
Nature, architecture, crystals, meditation, my garden and music.
How do you balance your business and your personal life?
I don't know if I am the best at it, it's a constant balance. I don't have kids and my husband and I both have careers and are both working from home now, so work tends to take priority. But I love to relax and rest, so I always make time for it. I realized over the years that I really need to balance as much as I can because burnout doesn't feel so fun. I love my alone time and social time, so my husband and I make it a point to walk together, cook together, do some fun outside social distance things to break the work routine.
What is your COVID go-to guilty pleasure - either something you're reading, listening to, watching or eating?
Definitely lots of Netflix - I last watched the
Secrets of the Saqqara Tomb
which was really great. Also, supporting our local restaurants by getting takeout when we can.


What artists are you loving these days?
I'm actually getting really inspired by sculptors, ancient art and old nature paintings. It's not any particular artist but more of a style I am really liking. I think I've really been missing going to museums! 
What are you doing to stay positive in these uncertain times?
I have my days but the way I get out of it is to remember that nothing is permanent. Things are always changing. Ideas will come when they need to. And that I don't have to figure out a problem right in the middle of the heat. Meditation, working with my crystals and cards are important to me. But also walks, looking at baby animal videos and jokes go a long way too.
You can see more of Adrienne's work on her website and Instagram! And be sure to check out her other business, Dream Maker Crystals, for some gorgeous crystal specimens!
---
← Older Post Newer Post →
---
0 comments
---