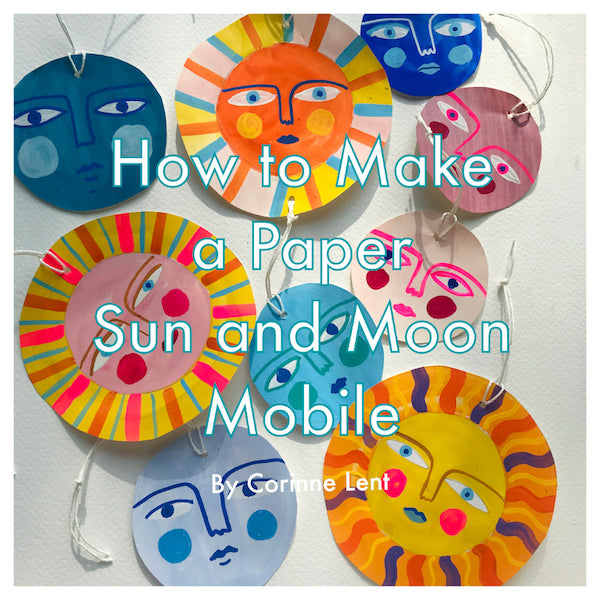 With a few materials you probably have lying around the house, you can make these super cute sun and moon mobiles! This project was created by Corinne Lent of Plant and Pattern. You can watch a video of this tutorial here, or follow the steps below! 
Materials and Supplies List:
Heavy weight paper, card stock or crafting paper
Pencil
Your favorite art supplies - paint, colored pencil or markers
(I love acrylic paint or craft paint and posca paint pens for details.)
Any string (kitchen string, hemp cord, yard or embroidery thread)
Small bowl and smaller cup
Scissors
Hole puncher, skewer or sharpened pencil
Optional: Glitter, puff paint or metallic pens

HOW TO MAKE IT:
Step One
Make a large circle for your sun by tracing around your bowl or ramekin. Then make another smaller circle inside your larger circle using your cup. Now make another small circle for your moon.
Step Two
Draw triangles or lines around the inner circle to make sun rays. Now draw your faces.
Step Three
Using your favorite art supplies, draw or paint in your background colors leaving the eyes white. Don't worry about staying in the outside lines perfectly, we will cut them out later. Let this layer dry.
Step Four
Now add the details like eyes, nose, mouth and sun rays. I like giving mine rosey cheeks. You can also add glitter or puff paint to give them some sparkle. (Paint pens, markers or color pencils are great for making small details.)
Step Five
Time to cut out all your suns and moons.
Step Six
Using a hole puncher, skewer or something with a sharp end like a pencil, poke a hole through the top and bottom of the larger circle, and just the top of the smaller circle. Be careful not to poke your finger!
Step Seven
Cut TWO 8-13inch pieces of string. Fold one piece of string in half and lace the two ends through the top hole on your larger sun piece. Next, put the ends through the loop and pull snug.
Step Eight
Tie a knot at the top - this is where your mobile will hang from.
Step Nine
Now using the other string, repeat step seven for your smaller moon but without the top knot.
Step Ten
Once the string is attached to your moon lace the two ends through the bottom of your sun, flip over and tie a knot close to the top on the backside of your sun. Now lace the paper moon through the loop and pull snug. Trim excess string.
Step Eleven
Hang your Mobile!
Extra tip!
These also make great Christmas ornaments. Just do one string at the top or make garlands by putting holes on the sides!
Have fun making your magical suns and moons and please tag us so we can see your celestial creations!
@corinnelent + @craftywonderland

About Corinne:
Making art is a sacred ritual for me and I love depicting that magic in my work. You will find influences of folk art, mysticism and culture in my art. I explore many mediums such as ceramics, papier mache, and textiles which allows me to offer an array of special handmade goods while always pushing myself creatively. And color. I LOVE COLOR.

Corinne will be vending at our upcoming Virtual Market on December 12th with her business, Plant and Pattern! Catch her LIVE on her Instagram (@corinnelent) on Sat, Dec 12th from 11:00 - 12:00! She'll be doing live sketchbook drawing and painting with a topic of: How do we find our 'style'? And be sure to check out Corinne's beautiful work on her Instagram and Etsy shop! 


---
← Older Post Newer Post →
---
0 comments
---