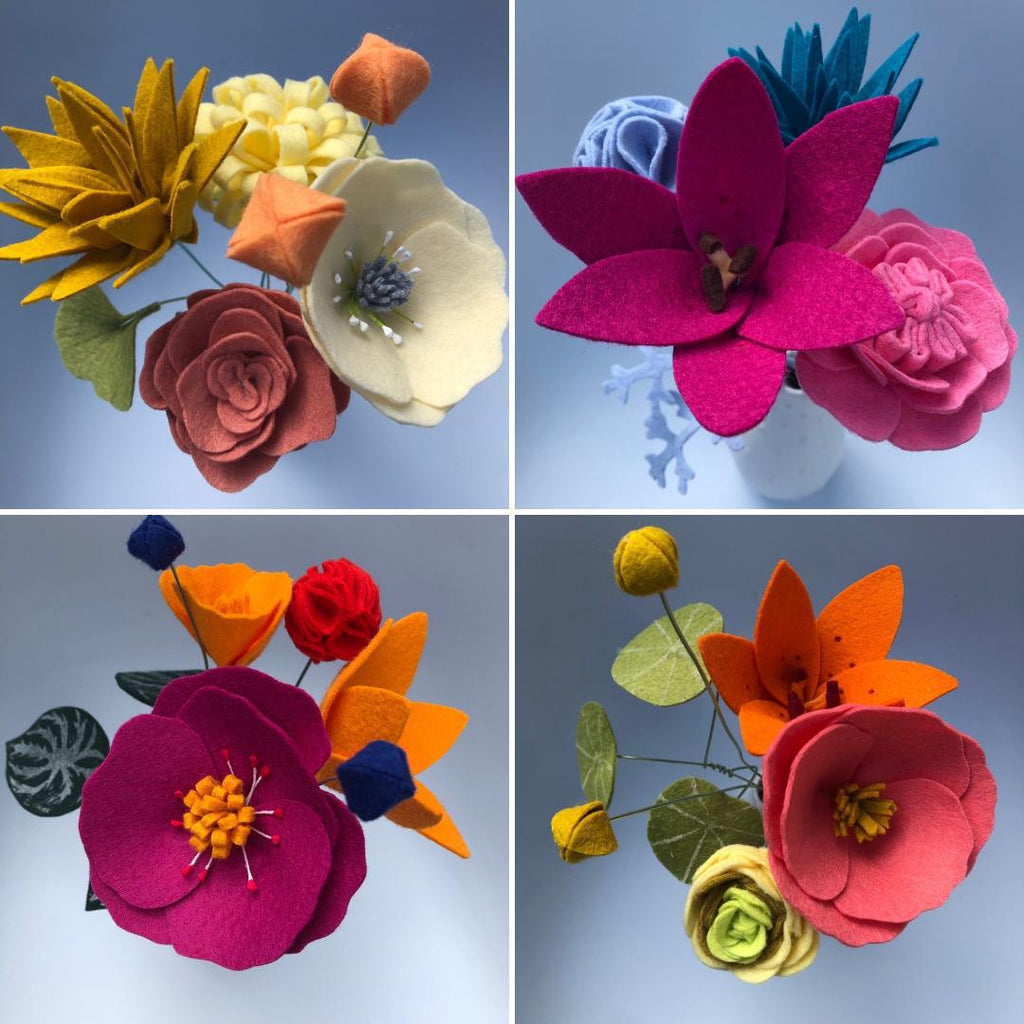 This Maker Monday we are pleased to highlight Candy Frost Design, a favorite from both our shops and craft markets! Her colorful floral arrangements are all made of felt, so you can give your friends and family beautiful lasting bouquets. The newest addition to her product line is felt houseplants! Perfect for those of us who struggle to keep plants alive! Candy is a vendor at our upcoming Virtual Market this Saturday, November 28th. Catch her LIVE on her Instagram page from 11:30am -12:00pm PST showing and selling her new floral designs in her studio. 
 

Name: Candy Frost
Astrological Sign: Gemini
Favorite Color: Green and Fuscia - I'm a gemini, so I get 2 choices, right?
Favorite Food: Anything from Bollywood Theater.
Favorite Art Supply/Tool: Needle nose pliers from my Dad's old fishing toolbox.


How did you get started doing art as a business?
I have been making things since I was a kid, but this particular line of work has a very specific origin story. The night before my kiddo's last day of his first year of preschool, a fellow preschool parent texted and asked what I was going to give as a teacher gift. Huh? Oops. Teacher gift! So I got out some wool blend felt I had been using for a needle felting project and some wire from the garage and I whipped up some felt flowers. I liked them so much I never gave them away. I posted them on my Instagram and got such great feedback I thought maybe I had something here! I spent months building a portfolio of work and applied to the Crafty Wonderland Winter show. I thought if I get into that, then this is worth pursuing. And I did. And the rest is history.
Do you have any advice for other people who are looking to grow their business and become a full time artist/crafter?
I am not full time but advice for keeping at it, I can provide. Try to carve out time to work. Make a schedule and stick to it. Take on challenging things and put yourself out there.




How has COVID changed the way your business works?
Before Covid, the majority of my work was sold wholesale and at craft shows. This pandemic has forced me out of my comfort zone and I finally got my Etsy page up and running.
Where do you find the most inspiration for your work?
I find inspiration for flowers when I am out for a walk. I am inspired by paintings and fabric surface design for color palettes. 



How do you balance your business and your personal life?
Very poorly. Haha. A lot of working on my art at night.

What is your COVID go-to guilty pleasure - either something you're reading, listening to, watching or eating?
I really enjoy Long Way Up and have been rewatching Marvelous Mrs Maisel and all the Marvel movies. I listen to a lot of Spotify, podcasts, and The Score on All Classical Portland while working in my studio. 



What artists are you loving these days?
I love following fellow artists on IG. I am loving Sara Schroeder paintings, Sarah Saunders Ceramics, Martina Thornhill, Anne Katherine Design, Alchemilla Jewelry, Dani Ives Fiber Artist and Kelly B Justice ceramics.
What are you doing to stay positive in these uncertain times?
Spending time with my seven year old. Seven year olds are the best of humanity and so very funny. 

You're stranded on a desert island and can bring three things with you - what are they?
A hammock, a good book and a Sat phone with signal so I can call for a ride home after my book and nap.
About Candy Frost: I am a graduate of OCAC, majoring in ceramics. Sculpting flowers and arrangements in felt has been a fun transition for me because of the low tech, immediacy of the process. I start each arrangement selecting a color palate and the arrangement goes from there. Each one is unique. Before this particular creative endeavor, I wore many hats: an art gallery director in NYC, and a gift shop owner in Western NY, and a salesperson for Supportland, a Buy Local campaign in Portland. Throughout it all, I have always been a maker, even as a young child. 


---
← Older Post Newer Post →
---
0 comments
---