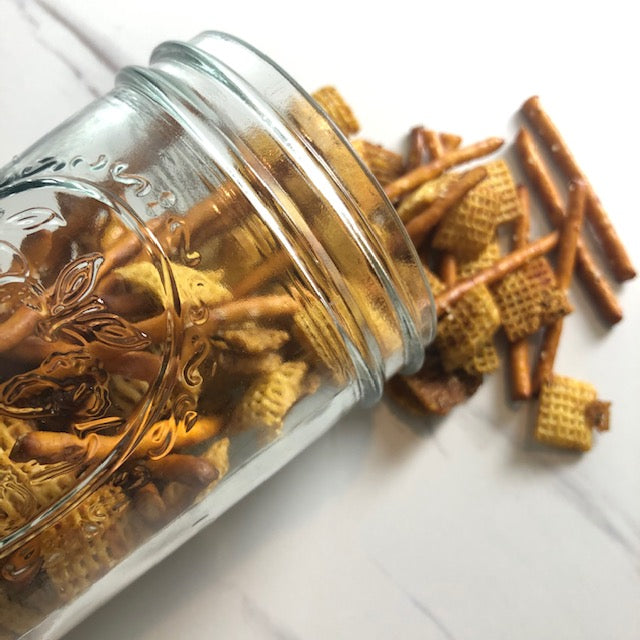 For our Wednesday Project this week, Sarah Marshall of Marshall's Haute Sauce is sharing her recipe for a habanero snack mix, just in time for holiday eating and gifting! You probably recognize Marshall's Haute Sauce from our Alberta shop and our craft markets. They also sell in lots of stores and markets around town!
Habanero Snack Mix
This recipe is perfect for gifting to your friends and family. It is crunchy, salty, and
spicy. When I used to share a kitchen with my gals, they would literally jump for
joy when they knew I was making a big batch of spicy snack mix. Tip: This recipe
is very approachable, for all skill levels and food allergies. Want it gluten free?
Use only rice cereal, GF pretzels, and the liquid aminos. Want it more or less
spicy? Adjust the hot sauce or cayenne to make the spice level fit your group.
Just remember if you up the sauce to decrease soy sauce, so it does not turn out
too soggy.
Ingredients
4 cups corn cereal
4 cups rice cereal
2 cups peanuts
2 cups pretzels
1 stick unsalted butter
1/3 cup Habanero Carrot Curry Marshall's Haute Sauce
1/3 cup soy sauce or liquid aminos
2 tablespoons fresh lime juice
1 teaspoon dried Mexican oregano
1 teaspoon cayenne pepper
1 teaspoon kosher salt

Directions
1. Preheat the oven to 250 degrees.
2. Line two sheet pans with parchment paper.
3. In a large bowl mix cereals, peanuts, and pretzels.
4. In a medium sauce pan, over medium heat, melt the butter. Once the butter is
melted add the soy sauce and Habanero Carrot Curry Haute Sauce. Stir until
well mixed, remove from heat, stir in lime juice.
5. Mix dry and wet ingredients in the bowl, adding slowly and stirring to evenly
coat.
6. Spread the mixture evenly between two baking sheets.

7. Mix oregano, cayenne, and salt together.
8. Sprinkle spices evenly over snack mix and stir.
9. Bake for 45-60 minutes, stirring gently every 15 min, until dry and golden.
10. Let mix cool, once completely cool put into glass jars fitted with lids.
Sarah Marshall is the Owner of Marshall's Haute Sauce in Portland, Oregon. Her small batch sauce company grew from her love of gardening, and background in home preserving. Sarah is passionate about farmers, artisan producers, and canning seasonal ingredients. Her love for canning and preserving all things local, inspired her to write Preservation Pantry: Modern Canning From Root To Top And Stem To Core.
Check out Marshall's Haute Sauce in our December 12th Virtual Market! They will be live on their Instagram from 12:00 - 12:30 demonstrating how to put together quick and easy holiday snacks and gifts. They are also donating a portion of their sales from the event to Equitable Giving Circle.
---
← Older Post Newer Post →
---
0 comments
---