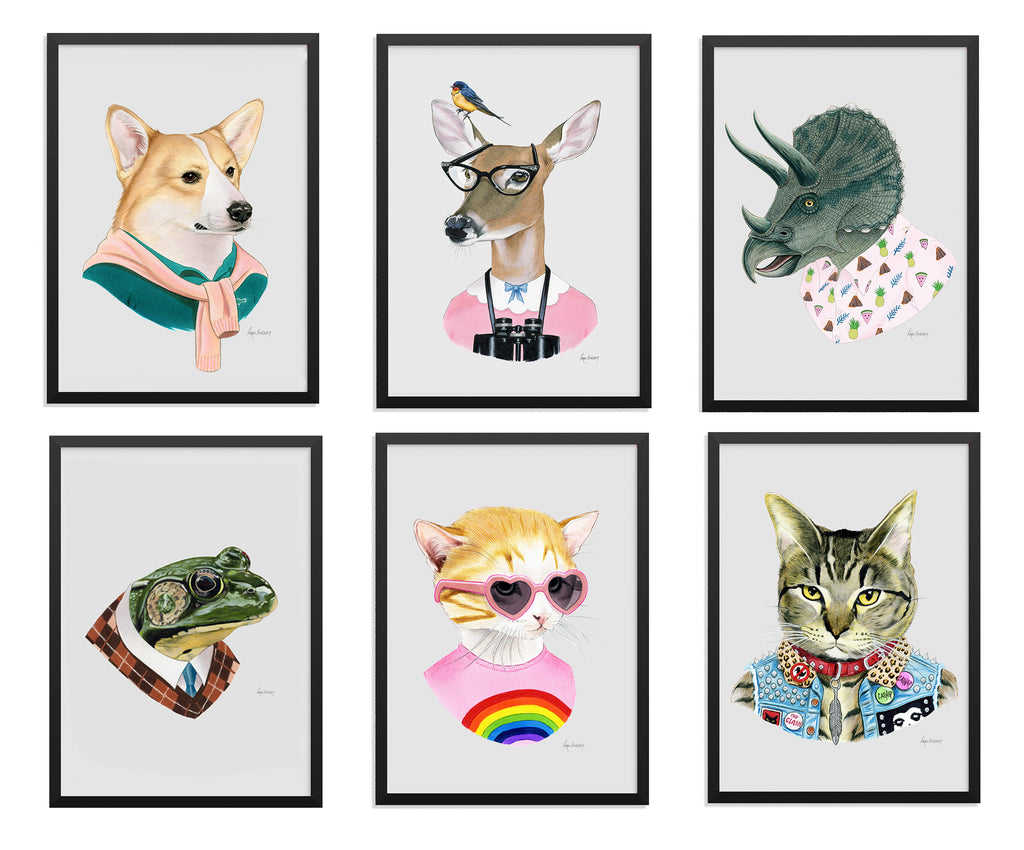 For our fourth and final Maker Monday, we have chosen to highlight Ryan and Lucy of Berkley Illustration. Fun fact: we actually met Ryan on craigslist many years ago when we had a call out to illustrators to draw us as super heroes for another project! Berkley Illustration has drawn every single Crafty Wonderland show poster and all of our logos and printed collateral since we began in 2006!  
You likely recognize Berkley Illustration's iconic animal portraits. They have been long time vendors of our craft markets and sell their work in both of our retail shops. You can see them LIVE on their Instagram at 11:00am in our December 12th Virtual Market! They will be setting up their booth at home and giving you a tour of their giftable goods! See all of their work and their full product offerings on their website!
Name: Ryan + Lucy Berkley
Astrological Sign: Ryan - Capricorn. Lucy - Libra
Favorite Color: Ryan - Silver, Lucy - Rainbow
Favorite Food: Ryan - Artichokes, Lucy - Potstickers
Favorite Art Supply/Tool: Ryan - Prismacolor Markers, Lucy - scissors
How did you get started doing art as a business?
We got our start at the first Crafty Wonderland! That was the first time we sold art as a product. We sure didn't realize we'd being doing it full time for the 10+ years that followed.
Do you have any advice for other people who are looking to grow their business and become a full time artist/crafter?
Thinking creatively about where you can show your work and don't limit yourself to one option. You never know where someone will find you. 
How has COVID changed the way your business works?
We already worked for our home studio so that part was luckily not a disruption. Having two young kids at home the last nine months doing online learning, howev [What? Please don't yell. Come talk to me if you need something.] er, has been interesting [Yes, you can have a snack.] to say the least. The "funniest" thing is that we need to talk to each [Five minutes until small group!] other to brainstorm and strategize [I don't know where your headphones are. Where did you have them last?] but that has been a major challenge for some reason. 
Where do you find the most inspiration for your work?
I'd say it's a solid mixture of real life nature and fake life vintage children's books. 
How do you balance your business and your personal life?
Is there a difference? We aren't very good at this. Someone give us lessons after Covid please.
What is your COVID go-to guilty pleasure - either something you're reading, listening to, watching or eating?
Ryan - Black Box wine
Lucy - Watching The Office repeatedly to help me fall asleep.
What artists are you loving these days?
Bisa Butler (@bisabutler)
Naomi Anderson-Subryan (@naomiandersonsubryan)
The Tiny Pricks Project (@tinypricksproject)
And we love pretty much every piece of art from Illustoria Magazine (@illustoria_mag)
What are you doing to stay positive in these uncertain times?
Reminding ourselves to be truly thankful for what we have and how lucky we really are. 
You're stranded on a desert island and can bring three things with you - what are they?
Ryan - Sleep mask, rum, sunscreen
Lucy - My family, our dog, and a friendly magical fairy. 
See more of Berkley Illustration on their website and Instagram!
And catch them LIVE in our Virtual Market on Saturday, December 12th at 11:00am!
---
← Older Post Newer Post →
---
0 comments
---